Rezatec was formed in 2012 to help businesses better manage their land-based assets by making use of the increasingly sophisticated but complex array of Earth Observation (EO) imagery and data available. We do this through our unique landscape intelligence platform aggregating large amounts of diverse data from satellites, airborne and ground instruments, applying relevant modelling and using our mapping, measuring and monitoring techniques with best-in-class technology to provide critical decision support for our customers. Customers today are spread across the Agribusiness, Biofuels, Energy, Water, Forestry and FMCG sectors. Headquartered within the Harwell Space Cluster, Oxfordshire, UK, Rezatec's staff have backgrounds in software development, forest and agricultural management, EO methods and tools and advanced computing techniques.
Process
Build, Enrich & Analyse
Rezatec's unique approach to deriving high-value landscape intelligence products and ongoing services can be described in three key steps: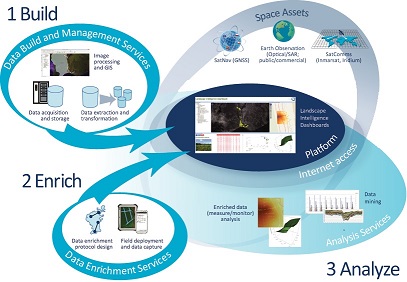 Build
Build and aggregate initial maps of the area of interest, derived from whichever sources are available and including original mappings (eg. land classifications);
Collate, index and warehouse the data created;
Deploy the warehoused data in a form which is useable and valuable to stakeholders, for example for fast, cost-effective assessment of the impact of critical land classes on landscape investment and development decisions.
Enrich
Enrich the mapped information through a range of methods and for a range of purposes, including critical landscape measurement, verification and calibration of the initial mappings, collection of data types not possible through remote sensing, and knowledge building;
Deploy the enriched mappings in a form which is useable and valuable to stakeholders, for example as peat depth estimates across a landscape derived through interpolation of ground measurements.
Enrichment methods may include ground surveying and data accumulation, crowdsourcing and high-resolution remote sensing. Enrichment may or may not require a formal ground-based implementation, depending on the area of interest and requirements of the user.
Analyze
As an ongoing service, analyse and monitor the area of interest, using previously-derived mappings and measurements enhanced by new data as it is released and collected;
Provide additional services such as risk mapping and alerting, for example fire and other risk mappings for peatlands using processing such as shown below:
'Mart' data through extraction from the data warehouse, transformation into formats suitable for business analysis and loading into analysis environments such as Business Information Systems (BIS) specified by the user.

OUR ROLE IN BACI

RZT's role in BACI takes places within WP2. The key role of RZT is in providing the mechanism to combine the data (which would already be on CEMS) and putting it in a unified format and then applying providing an algorithm prototype code for its implementation and getting it up and running. It will act as a scalable access stream to support biodiversity indicators looking for novel ways of using data.
KEY PEOPLE

Links