WP6 Regional validation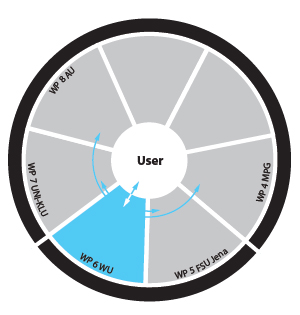 OBJECTIVES

The aim of the work package is to provide an independent regional assessment and validation of the different BACI products. The main objectives are:
To analyse and validate the developed down-stream data products (WP4) and the BACIndex results (WP5) for its sensitivity and quality to reflect and correctly attribute various climate induced changes on ecosystems in different regional contexts.
To compare the results and assess potentials and limitations of the different approaches to reflect biophysical changes for the attribution of different drivers and assessing societal consequences (in-tandem with the methods developed in WP7).
To synthesize the results and implications with focus on the design and implementation of a near-real time BACI monitoring system relevant to the European and international biodiversity targets (link to WP8). To assess and compare the BACI products, the work will focus on selected regional cases that reflect different ecosystems and various known transitions in the terrestrial biosphere.
Papers that were supported by this WP
1
Erb, K., Luyssaert, S., Meyfroidt, P., Pongratz, J., Don, A., Kloster, S., Kuemmerle, T., Fetzel, T., Fuchs, R., Herold, M., Haberl, H., Jones, C. D., Spiotta, E. M., McCallum, I., Robertson, E., Seufert, V., Fritz, S., Valade, A., Wiltshire, A., Dolman, A. J. (2017). Land management: data availability and process understanding for global change studies.

Global Change Biology,

23

(2), 512-533. doi:10.1111/gcb.13443.
Postprint available
2
Erb, K.-H., Fetzel, T., Plutzar, C., Kastner, T., Lauk, C., Mayer, A., Niedertscheider, M., Körner, C., Haberl, H. (2016). Biomass turnover time in terrestrial ecosystems halved by land use.

Nature geoscience,

9

, 674-678. doi:10.1038/ngeo2782.
Postprint available
3
Sippel, S., Zscheischler, J., Heimann, M., Otto, F. E., Peters, J., Mahecha, M. D. (2015). Quantifying changes in climate variability and extremes: Pitfalls and their overcoming.

Geophysical Research Letters,

42

(22), 9990-9998. doi:10.1002/2015GL066307.
Postprint available
4
Tramontana, G., Jung, M., Schwalm, C. R., Ichii, K., Camps-Valls, G., Ráduly, B., Reichstein, M., Arain, M. A., Cescatti, A., Kiely, G., Merbold, L., Serrano-Ortiz, P., Sickert, S., Wolf, S., Papale, D. (2016). Predicting carbon dioxide and energy fluxes across global FLUXNET sites with regression algorithms.

Biogeosciences,

13

(14), 4291-4313. doi:10.5194/bg-13-4291-2016.

5
Vaglio Laurin, G., Hawthorne, W. D., Chiti, T., Di Paola, A., Cazzolla Gatti, R., Marconi, S., Noce, S., Grieco, E., Pirotti, F., Valentini, R. (2016). Does degradation from selective logging and illegal activities differently impact forest resources? A case study in Ghana.

iForest - Biogeosciences and Forestry,

9

, 354-362. doi:10.3832/ifor1779-008.

6
Zscheischler, J., Mahecha, M. D., Avitabile, V., Calle, L., Carvalhais, N., Ciais, P., Gans, F., Gruber, N., Hartmann, J., Herold, M., Ichii, K., Jung, M., Landschützer, P., Laruelle, G. G., Lauerwald, R., Papale, D., Peylin, P., Poulter, B., Ray, D., Regnier, P., Rödenbeck, C., Roman-Cuesta, R. M., Schwalm, C., Tramontana, G., Tyukavina, A. T., Valentini, R., van der Werf, G., West, T. O., Wolf, J. E., Reichstein, M. (2017). Reviews and syntheses: An empirical spatiotemporal description of the global surface–atmosphere carbon fluxes: opportunities and data limitations.

Biogeosciences,

14

(15), 3685-3703. doi:10.5194/bg-14-3685-2017.